LEICKE KN95 FFP2 Respiratory Mask, 10 pieces
* Incl. VAT excl. Shipping
---
if(!document.getElementById('paypal-smart-payment-script')) { var script = document.createElement("script"); script.type = "module"; script.id = "paypal-smart-payment-script"; script.src = "https://cdn03.plentymarkets.com/5efrsgo5j3zq/plugin/3/paypal/js/smartPaymentScript.min.js"; script.setAttribute("data-client-id", "AS3A50H8ynqexUrs8TsQrCTcqsiB1JtB47OkBEh-WKGRNbcrIhu0nDhm_Jy1CeTCyn2Q7tdv7Bh5RlLX"); script.setAttribute("data-currency", "EUR"); script.setAttribute("data-client-token", "eyJicmFpbnRyZWUiOnsiYXV0aG9yaXphdGlvbkZpbmdlcnByaW50IjoiYTk2NDU5M2RmNmFhODdmYWFmNTExMDEwMmFhNzdkYmY2OGMzZDQ0ZThlZjZkZTk5YjM3YzRlNDBlY2U5YjNkMXxtZXJjaGFudF9pZD1yd3dua3FnMnhnNTZobTJuJnB1YmxpY19rZXk9ajJmYzJqcHhkZzZ2cDg0ZiZjcmVhdGVkX2F0PTIwMjMtMTAtMDVUMTU6MDA6NDguNzEyWiIsInZlcnNpb24iOiIzLXBheXBhbCJ9LCJwYXlwYWwiOnsiaWRUb2tlbiI6bnVsbCwiYWNjZXNzVG9rZW4iOiJBMjFBQU91N25yeG5WVlV1TnBJUzlWX1FjQzhPUzVNWnI5UkdBS19CeWstRzIzUW1UcVdEdzlNeU9WdGQzVzlVb09IZk9WbllFd2t6TFI2U0I1LWRWUVJNRmZQNTZGT3pBIn19"); script.setAttribute("data-append-trailing-slash", ""); script.setAttribute("data-locale", "en_GB"); document.body.appendChild(script); } else { var script = document.getElementById('paypal-smart-payment-script'); script.setAttribute("data-client-id", "AS3A50H8ynqexUrs8TsQrCTcqsiB1JtB47OkBEh-WKGRNbcrIhu0nDhm_Jy1CeTCyn2Q7tdv7Bh5RlLX"); script.setAttribute("data-currency", "EUR"); script.setAttribute("data-client-token", "eyJicmFpbnRyZWUiOnsiYXV0aG9yaXphdGlvbkZpbmdlcnByaW50IjoiYTk2NDU5M2RmNmFhODdmYWFmNTExMDEwMmFhNzdkYmY2OGMzZDQ0ZThlZjZkZTk5YjM3YzRlNDBlY2U5YjNkMXxtZXJjaGFudF9pZD1yd3dua3FnMnhnNTZobTJuJnB1YmxpY19rZXk9ajJmYzJqcHhkZzZ2cDg0ZiZjcmVhdGVkX2F0PTIwMjMtMTAtMDVUMTU6MDA6NDguNzEyWiIsInZlcnNpb24iOiIzLXBheXBhbCJ9LCJwYXlwYWwiOnsiaWRUb2tlbiI6bnVsbCwiYWNjZXNzVG9rZW4iOiJBMjFBQU91N25yeG5WVlV1TnBJUzlWX1FjQzhPUzVNWnI5UkdBS19CeWstRzIzUW1UcVdEdzlNeU9WdGQzVzlVb09IZk9WbllFd2t6TFI2U0I1LWRWUVJNRmZQNTZGT3pBIn19"); script.setAttribute("data-append-trailing-slash", ""); script.setAttribute("data-locale", "en_GB"); }
---
10 pieces
Material non-woven, colour: white
with padded nose clip and adjustable headband
Filtration efficiency of over 95% for particles larger than 0.3 µm
4 protective layers, including 2 electrostatic meltblow layers
Manufactured according to GB2626-2006 (China's KN-95 standard) and CE directives 2016/425 standard, EN149 2001+A1:2009
also suitable for syeglass wearers
Standards for masks: N95/KN95/FFP2 (https://en.wikipedia.org/wiki/N95_mask)
---
The non-woven fabric mask is easy to use thanks to stretchy tapes and sits comfortably on the face even when worn for a long period of time. The adjustable nose clip provides a custom and secure seal with few pressure points.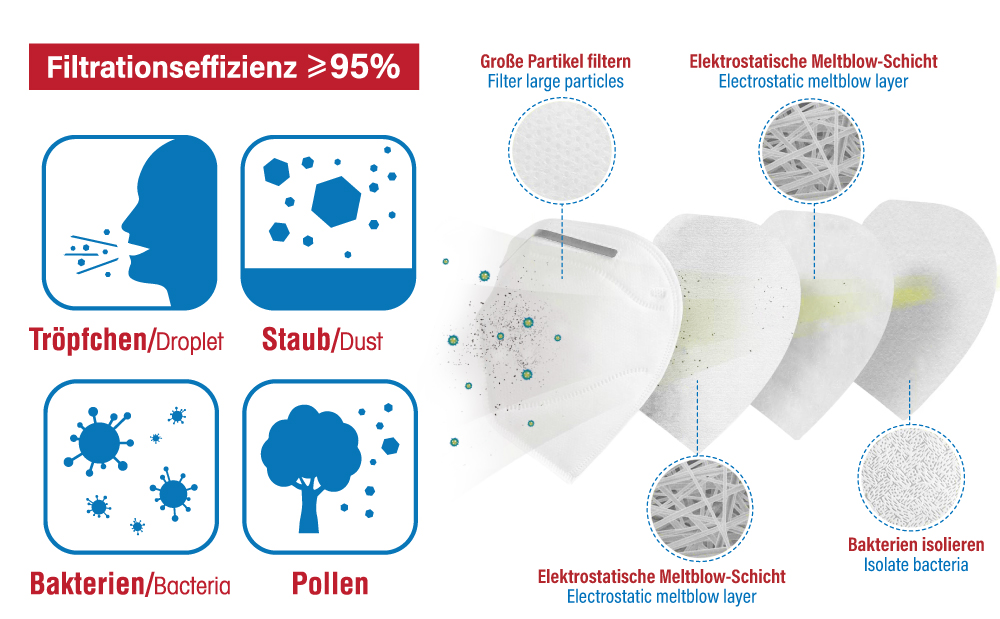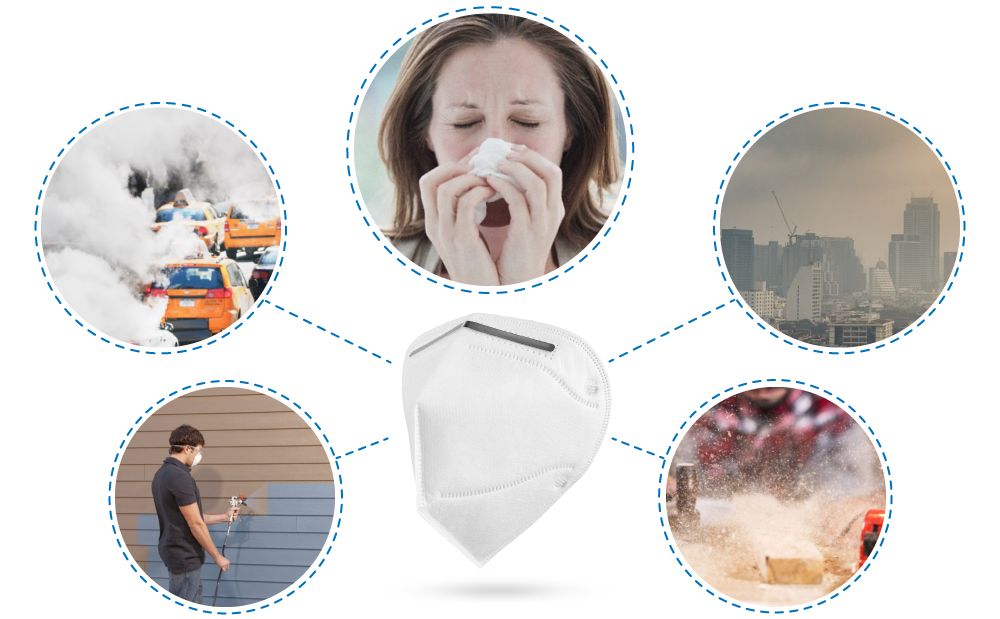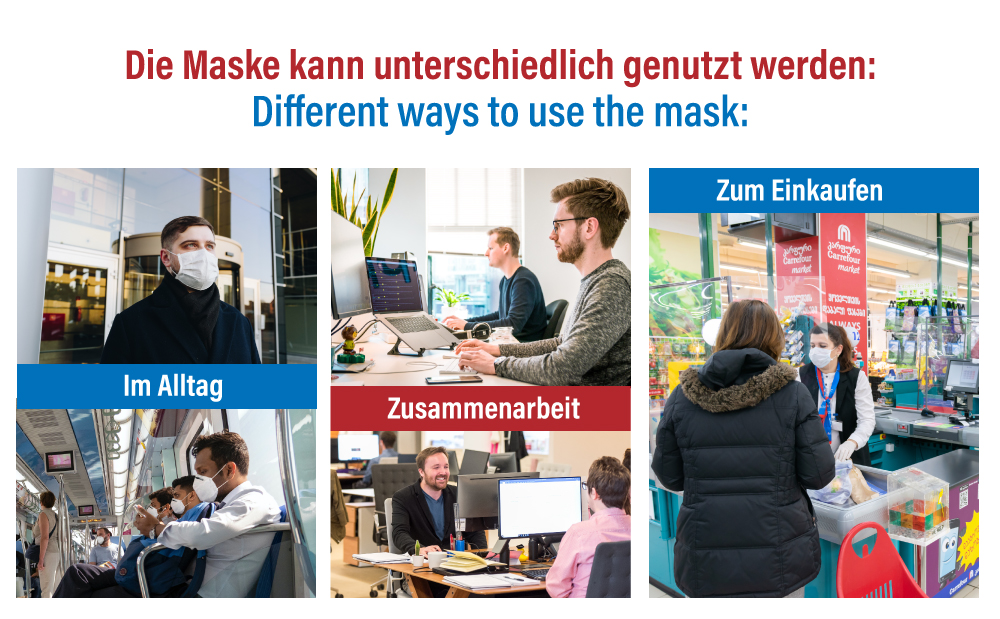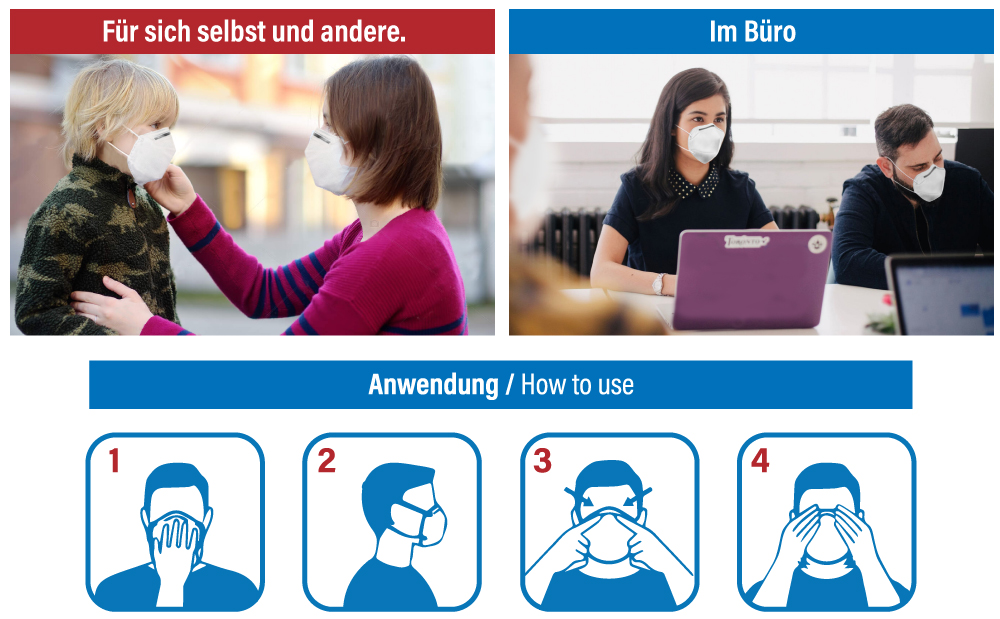 Instructions for use:
please check the tightness before use.
wear the respiratory mask for the entire duration of exposure to contaminants.
use the respirator in accordance with applicable health and safety regulations.
Leave the contaminated area if dizziness, irritation or other stress occurs.
use only once. No maintenance required. Do not store and/or reuse after single use.
Keep unused respirators in the closed box and store in a dry, non-contaminated place between 2 and 55 degrees Celsius.
Shipping from Germany】: The masks are shipped from our warehouse in Germany to ensure that they reach you as quickly as possible.